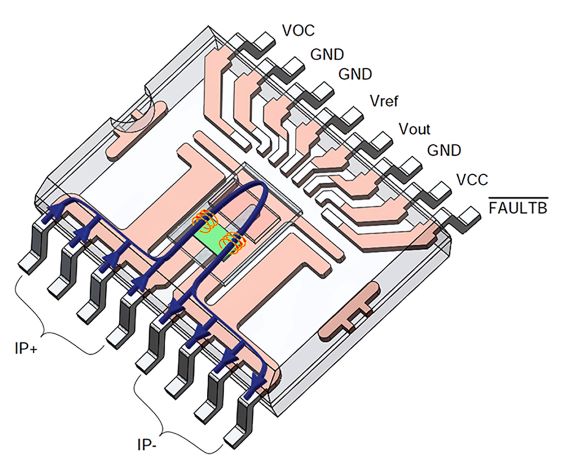 "AMR technology has significant advantages versus approaches such as Hall, current transformer, and shunt resistor," according to the company. "Compared to Hall-based current sensors, AMR provides significantly higher bandwidth and dynamic range. Compared with transformers, AMR offers reduced size and cost, as well as response to dc. In comparison with a shunt resistor, AMR provides an integrated solution, eliminating the external amplifier and related circuitry required for high voltage isolation, which is a significant challenge at high frequencies. In addition, shunt resistors require enough IR drop to achieve accuracy goals at the low end of the current range."
Called MCA1101, the series it comes in 3.3 (4.5mA typical consumption) and 5V (6.5mA) versions, and has an output step response time of 300ns to suit the fast switching found in GaN and SiC wide-band-gap power circuits.
Signal bandwidth is 1.5MHz, and integrated over-current detection flags over-current in as little as 200ns.
"±65A versions have a typical accuracy of ±3% and utilizes an industry-standard SOIC-16 package with a 0.9mΩ current path," said company marketing v-p Teoman Ustun. They "are UL/IEC/EN60950-1 certified for isolated applications".
Output is fixed gain. Lower current versions in the range are also available in ratiometric (MCR1101) output form.
A reference output is available, representing 0A, from which to measure the voltage output.
Working voltage is 1.097kVrms, or 400V for reinforced isolation. Isolation is 4.8kV.
Applications are foreseen in power supplies, inverters and motor controls.
Product pages: