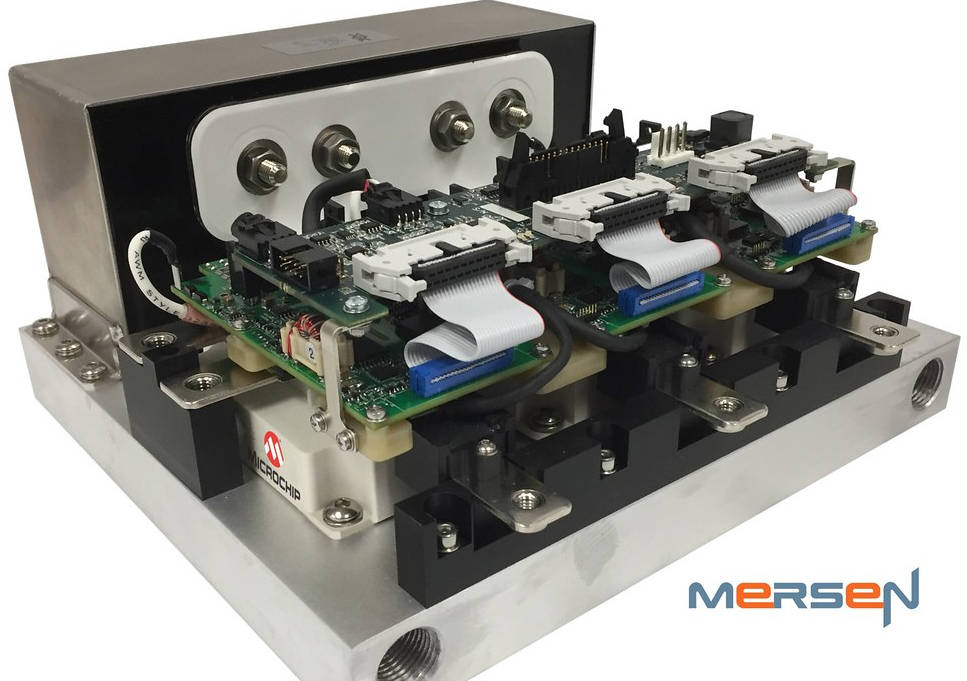 "When power inverter designers can source a proven solution, they can avoid sourcing individual parts and reduce risk through reliability. Designers now have an all-in-one evaluation system," said Microchip v-p of discretes Leon Gross.
Called Power Stack, the design provides 16kW/litre, peaks at 98% efficiency, and works up to 20kHz with junctions up to 130°C.
it includes Microchip's 1.2kV MSCSM120AM042CD3AG mosfets and 2ASC-12A1HP digital gate drivers, with Mersen's bus bar, fuses, capacitors and thermal management.
The design is a starting point.
"We can demonstrate our ability to optimise any inverter topologies from our customers, relying on our line of bus bars, capacitors, fuses and cooling systems," said Mersen marketing v-p Philippe Roussel. "The Microchip silicon carbide line-up also gives us the capacity to extend these primary specifications to higher voltage, current and switching frequency to meet customer operating point needs."
Microchip also offers SiC power models with a choice in construction including baseplate material, DBC (direct bonding copper) ceramic material and die attach method.
The gate drivers are configurable. They (and the next-generation 2ASC-12A2HP) are supported by Microchip's Intelligent Configuration Tool (ICT) for gate switching profiles, monitors and controller interface settings.
Product pages: