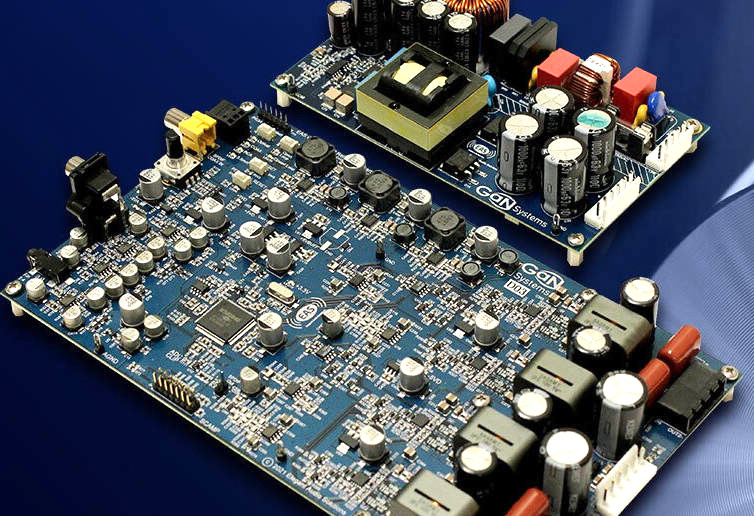 Called the GeN2 Amplifier, the evaluation kit comes with a matching 400W (550W peak) LLC mains power supply design, that includes power factor correction.
Bridges output devices are bottom-side-cooled 100V 90A GS61008P enhancement-mode HEMTs running from from ±32V – bipolar supplies were picked to remove standing dc from the wires running to the speakers.
The 'amplifier' part is a 24bit 300MHz Renesas D2Audio DSP that can run open-loop with direct PWM (with programmable dead-times) to the output stage, or with PWM DAC-driven closed-loop control with fixed dead-time – the options allow efficiency and audio performance to be traded off.
"The solution highlights an easy plug-and-play design with features such as multi-audio signal inputs, bridge-tied load output, and open-loop / closed-loop toggling," according to GaN Systems. "D2Audio DAE-3 integrated hardware accelerators and PWM modulation engine allow the switching control and fault recovery to be implemented in hardware and allow MCU resources to be utilised for low-frequency control, housekeeping and user interface functionality. In this reference design, the DSP uses less than 25% of its available MIPs including all processing, optimisation and protection features."
Between the DSP and output transistors are Texas Instruments' LM5113 half-bridge drivers.
The 85 – 264V switched-mode PSU is digitally controlled and uses 650V enhancement-mode GaN HEMTs.
Both amplifier and PSU are fan-less and without added heatsinks, and are upgrades over the design it announced in May 2020. The company's transistors have been designed into Orchard Audio's Starkrimson Stereo Ultra amplifier, its Starkrimson Streamer Ultra, and into the power supply of the Syng Alpha Cell.
The kit's web page is here – viewed the video from 40 minutes for design specifics and from 50min for detailed amplifier specs.
The eval kit document, GS-EVB-AUD-BUNDLE2-GS, can be freely downloaded and it worth a read.