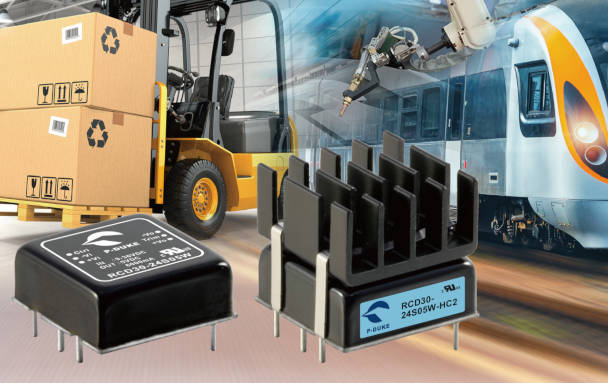 Called the RCD30W series, the converters have 4:1 input voltage ranges suited to rolling stock, with a choice of 9-36V, 18-75V or 36-160V.
There are single and dual output models including: 3.3, 5, 5.1, 12, 15, 24, ±12, ±15, and ±24V (single output versions get a voltage trim pin). Protections include: over-voltage, under-voltage, over-current, short-circuit and over-temperature, and there is a shut-down pin.
An input fuse must always be added to the circuit, according to the data sheet, and external capacitors are needed to meet some specifications.
Efficiency in the series is up to 92% and one heat-sink version (there are three different height heatsink options) can work at full load up to 73°C ambient with natural convection – meeting the EN 50155 class OT4 temperature criteria.
Suffix 'M3' versions operate at low temperature and will start at -55°C.
Certifications include IEC/EN/UL 62368-1, EN 50155 and EN 45545-2.
Shock and vibration levels are compliant with EN 61373 and MIL-STD-810F.
Operation is across -40 to +105°C and up to 5,000m altitude. Input-output isolation is 3kVdc and there is a three-year warranty.
Luso Electronics is stocking the parts