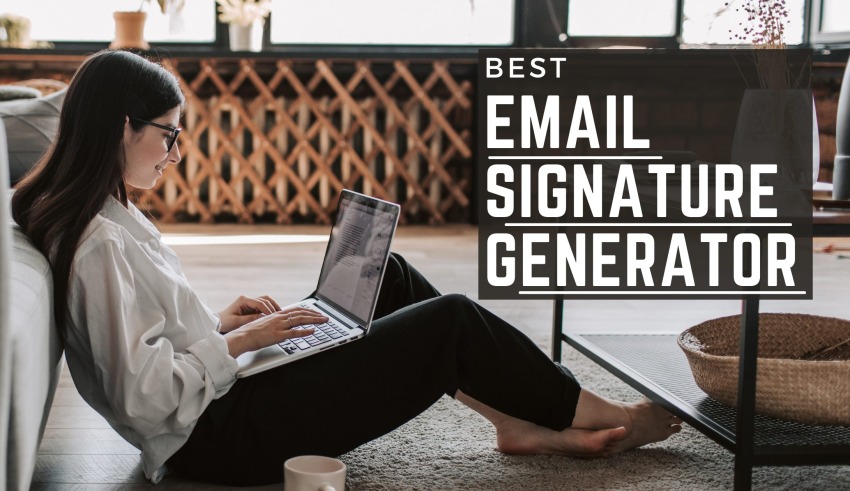 Any business knows that a significant part of your brand image is constituted by the email signature. This is precisely why it must align completely with the voice of your brand. However, trying to create a sign on your own takes significantly more time than it should.  Therefore, it is important that you find the right tools and the perfect email signature generator in order to make your work easier. 
But Why do You Need an Email Signature?
Professionalism and Legitimacy  
When you create a cohesive image which is shown throughout your company motifs, it establishes your business's reputation in every platform.  
Every message that you send is an important way to brand your product and the signature is the perfect medium to achieve this. It will also help you reinforce and establish you as a company or a brand.  
Importance for Brand Recognition 
When you are able to create a great email signature for all the employees in your team, you will be able create brand recognition for every person who shall be representing your company.  
Your signature is basically your most important digital business card. This is also a great way to connect with various customers and openly convey what you want through indirect communication.  
Personal Brand Association 
Make sure that you are also able to add your own picture to the email signature. This is simply the cherry on top and will help create perfect association with clients.  
Here are some of the best Email Signature Generator to Use in 2022.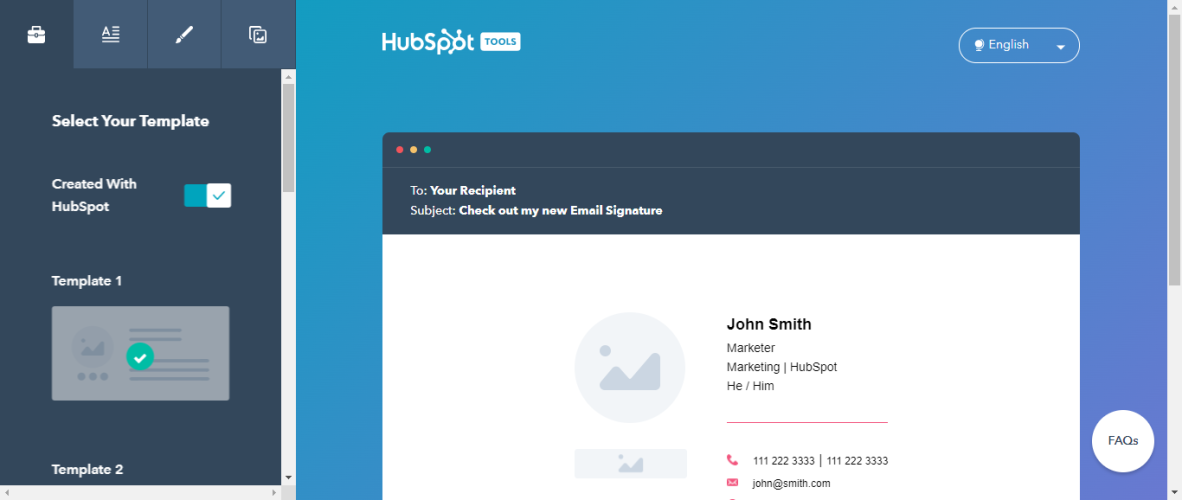 Hubspot has a range of applications as well as resources. They also have one of the best email signature generators as well. It is highly easy to operate and all you have to do is start with filling the key information form. This will require all of the contact information that you need, and you must also use the given form to add various links to different social media accounts.  
There are a large number of colors, fonts, as well as patterns. You will also be able to get various other designs that can easily by customized in order to suit the need of the given brand, company, or person. The email template will easily be able to communicate the brand message you have with the help of customized signatures.  
The last two forms will also let you get a text or CTA picture. You might even get any HubSpot Academy certifications that you have earned. Such certifications will easily help your brand or the organization get better recognition from the right sources. The main features of this free email signature generator include templates, customized signature image, font size, link color, as well as font color. 
---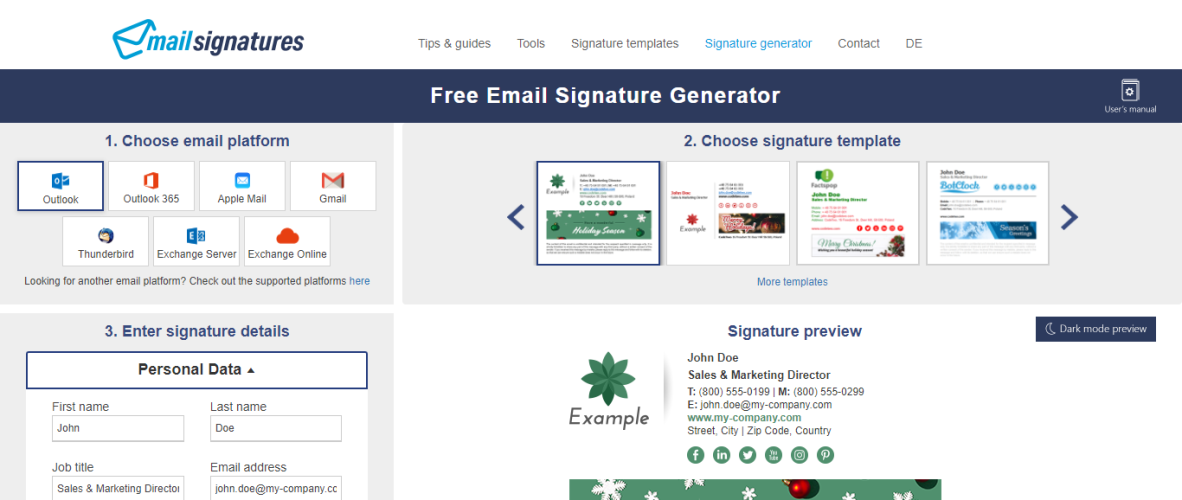 Mail signatures are best for small businesses, influencers and freelancers. Although, of course the app is not restricted to these categories and anyone otherwise can easily use the signature generator as well. Mail Signatures is definitely one of our favorite entries in this list. They are highly versatile and they offer various options for people trying to create the perfect signature.  
If you are feeling creative, you can go ahead and create your own signature from scratch. On the other hand, you can easily choose the template that you would like to take inspiration from and get a head start. Also, they give you the option to choose the perfect email platform from this drop-down menu- you can also pick a signature design from this menu as well.  
As usual, you will have to fill in all your contact information along with the business name and logo. You can next go ahead and style the font that you want. Of course, the next step would be to link all the important social media pages that you like. Once you have entered the content you can click on the 'apply signature' button so that you add the right signature to all your emails. 
---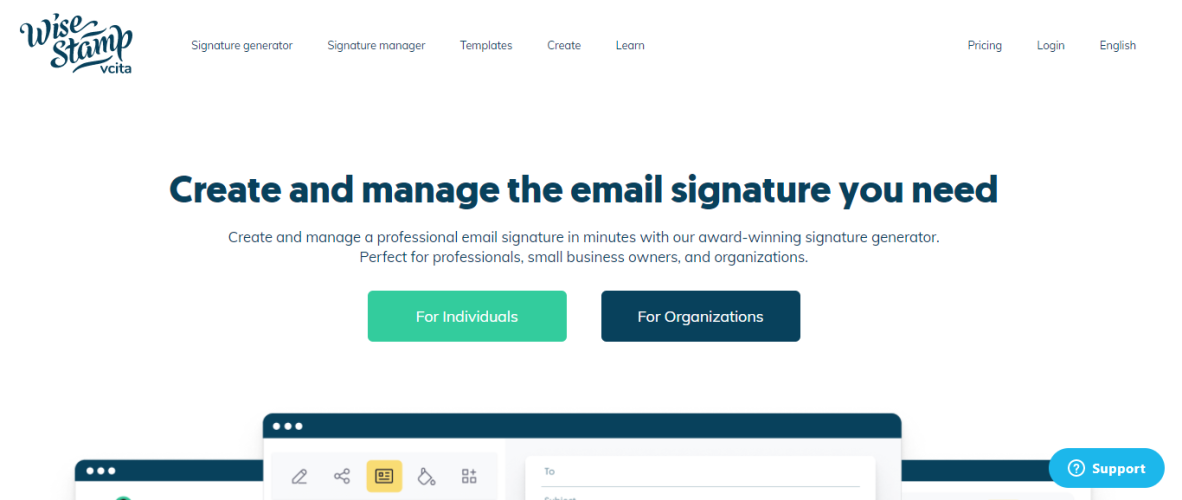 This app is also great for people who are active freelancers. There are various features available on WiseStamp that can be split into plans. One of these plans is also completely free- in case you are worried about the costs. The best part about the site is that it will give you more than 50 templates to pick from. Naturally, they have made it a point to make sure that every genre and niche can get its special template for the perfect results.  
Things only get better from here. Other than this, you can also add Instagram images to the email that you are sending- for more personalization. With the help of a single button- 'click n send' you will be able to share the final work with all your customers or any individual you like. Moreover, you will also be able to add other social media sticker as well as icons to the signature.  
You can choose to use the free edition or you could easily subscribe to any paid premium package. The premium package will also give you loads of features. It has been shown that this method is being used by more than 650,000 professionals. 
---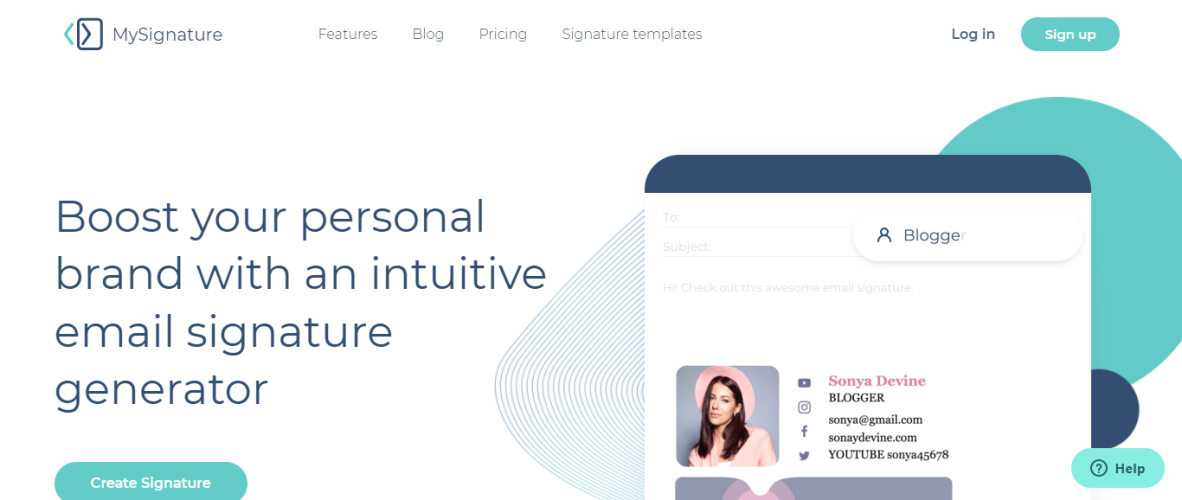 You can easily use MySignature in order to configure and build a highly detailed signature. This is the only website which will be able to give you a large number of signature choices. The various templates that you get on MySignature are absolutely mobile friendly. Therefore, if you are worried that the process might turn too complicated- then you would be wrong.  
This website works with the most basic email clients which include Apple Mail, Thunderbird, Outlook, as well as Gmail. This basically means that your email footer will be viewed in various places across different platforms.  
One great advantage of this tool is that you can use it on the go without much hassle. Irrespective of your device- the generator will be easily accessible. There are a large number of built-in analytics provided within generator as well. This is important to monitor the progress of your links, banners, photographs, and other things. 
---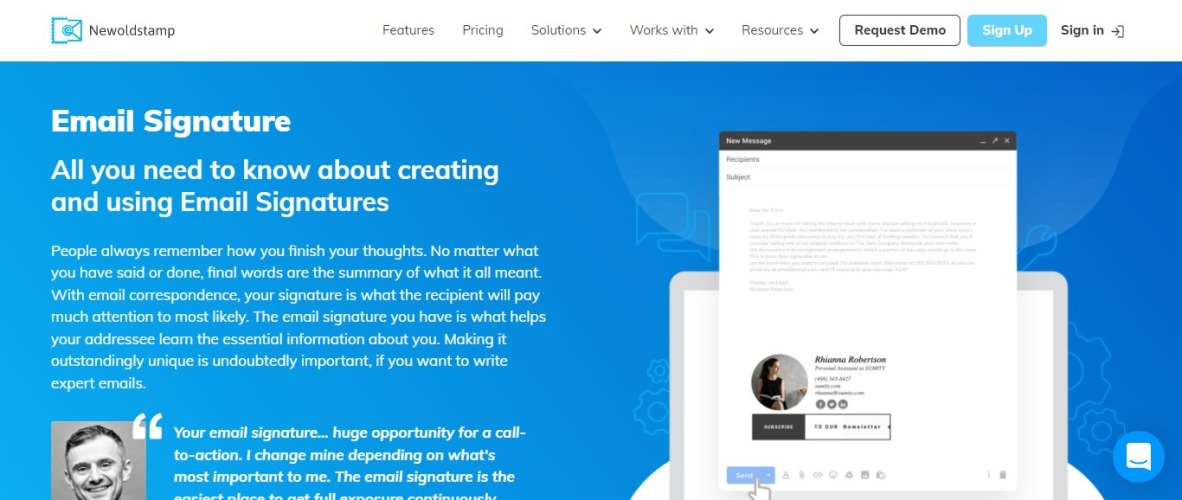 This is an email generator which will let you have different social media badges as well as applications to include within the email signature Generator. The most loved feature of this generator include- template development, built in analytics, banner campaigns, and auto-updates.
Other than this, you can also make use of streamlined delivery, branch templates, as well as central control. Another great feature to note is that this service will be integrated with Google Workspace, Office 365, as well as Exchange in order to make the management process extremely effective. 
You can also use this app in order to provide links to particular landing pages within your website. The services, however, are not free and come with the pricing of 8 dollars and 11 dollars a month. 
---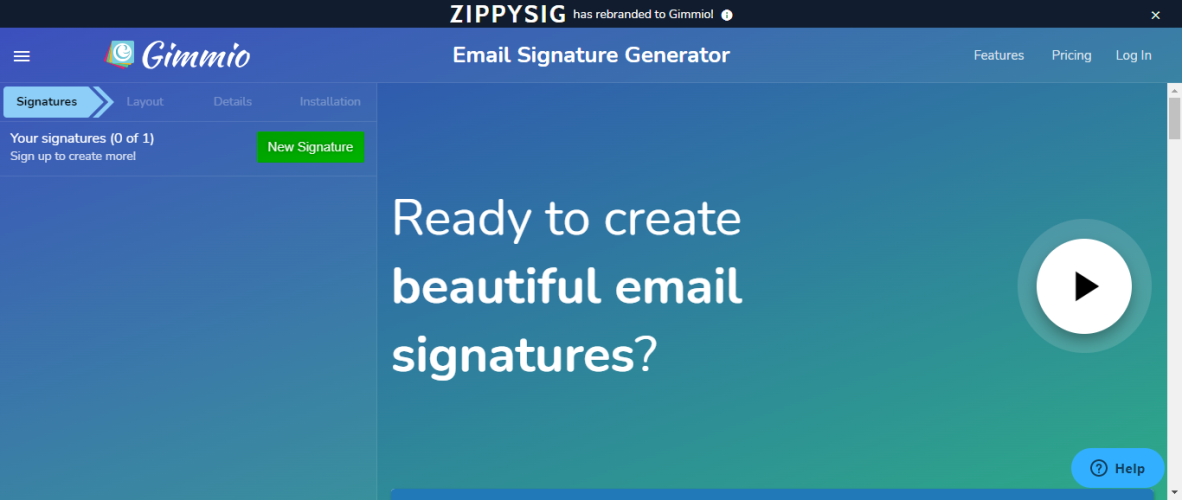 This email generator should be perfect for people who are looking to improve their small businesses. It is also one of the most preferred tools in the corporate sector. Gimmio comes with a very large range of modern customization as well as styling options. All of these will together let you create some high quality custom designs for your email signature.  
They come with more than 40 advanced easy to use templates that you can pick from. All of these are completely free to download. These will also include more than 40 fonts as well a large number of social media stickers. You can also avail of various icon combinations- a rare feature- not found anywhere else.
If you are looking for interface choices which include modifying field names, and inserting columns- then this generator should definitely work for you. You can also add customized banners to the email towards the bottom. Moreover, the template that you choose will invariably come with a dashboard. 
---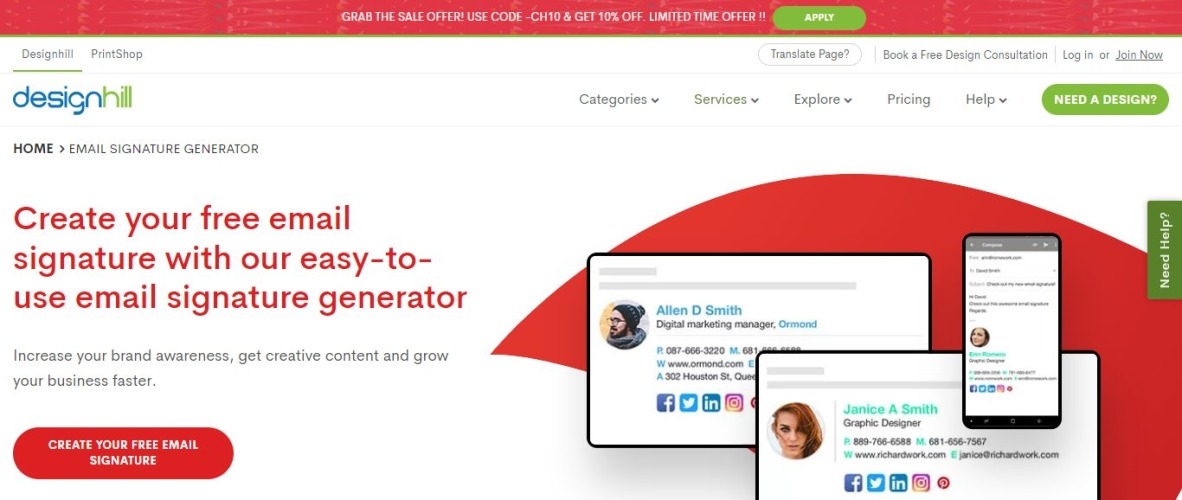 DesignHill is a great email generator for people who want to create explicit designs through templates. This is probably the most popular email generator that you will come across on the internet. Designhill will also allow you to hire freelancers and buy design gigs as well.  
In order to generate an email signature, you will have to fill various details about your company, CTAs, pick models, as well as social media links. After you have completed all of this you can click the "create a signature" option in order to make a highly professional signature to insert in all of your emails.  The main features of this app will also include things like CTA, social links, templates, as well as designer considerations.  
Conclusion
We are sure that the short guide above has given you all the needed information for the best email signature generators available in 2022. If you would like to know more about such topics make sure that you stay tuned into our website!