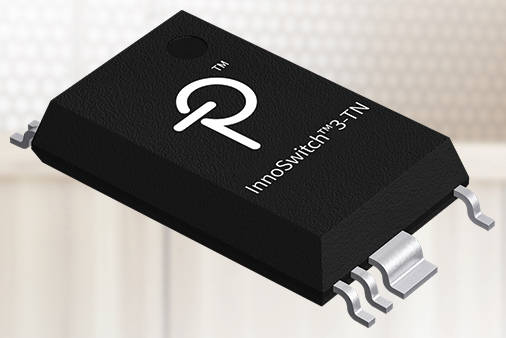 Called InnoSwitch3-TN, "our new devices support the high output current needed in smart-connected appliances at efficiencies of up to 90%, compared to traditional approaches such as buck regulators," said Power Integrations marketing manager Silvestro Fimiani. "InnoSwitch3-TN ICs incorporate all feedback components while supporting isolated, non-isolated, single and multi-output designs for auxiliary power supply."
No-load consumption can be as low as 5mW.
Inside, isolated feedback is through the company's safety-rated inductive FluxLink, which "ensures reliable synchronous rectification and accurate constant voltage and constant current on the output".
The chip can be used in a 5V single-output power supply, with two positive output rails, or with both positive and negative rails, without any external feedback components. The low forward drop of the output synchronous rectifier mosfet aids cross-regulation on multi-output supplies.
Safety features include output over-current and over-temperature protection.
Reference design RDK-710 is available for designers who are interested in evaluating InnoSwitch3-TN ICs. Devices are priced at $0.50 in volume production quantities. For further information, contact a Power Integrations sales representative or one of the company's authorized worldwide distributors: Digi-Key, Farnell, Mouser or RS Components.
Power Integrations' New InnoSwitch3-TN ICs Slash Energy Waste in Appliance Power Supplies by 75%
Beyond the buck regulator: Newest InnoSwitch3 IC family delivers simplicity, flexibility, and industry-leading efficiency in high-output-current designs
San Jose, Calif. – December 7, 2021 –