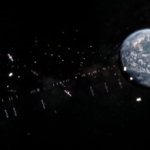 Scientists at the University of Liverpool, funded by the UK Space Agency, are using space to understand what happens to human muscles as we age, and why.
When astronauts spend time in space, without the effects of gravity, their muscles get weaker, just as they do in older age, before recovering when they return to Earth. By studying what happens to muscle tissue in space, the team can compare the findings to what happens on Earth.
This will help the solve the puzzle of why muscles get weaker as we age and look at ways to prevent it.
"As we get older, our bones and muscles get weaker, but scientists don't fully understand how this happens," says science minister George Freeman, "research on muscle loss in the microgravity of space is helping identify potential cures for musculoskeletal disease, which causes agony to millions and costs the NHS billions."
This new experiment, called MicroAge, will take human muscle cells, the size of a grain of rice, that are grown in a lab and carefully put them into small 3D-printed holders the size of a pencil sharpener.
Once in space, these will be electrically stimulated to induce contractions in the muscle tissue, and the scientists will look closely to see what happens.
MicroAge is due to launch on a SpaceX Falcon 9 rocket from the KennedySpace Center, Florida, at 10am (GMT) on Tuesday, 21st December. The experiment will return to Earth in January 2022 for further analysis.
The UK Space Agency has provided £1.2 million in funding to the University of Liverpool for the MicroAge experiment.
Academics in the UK can use the International Space Station (ISS) for research, thanks to the UK's membership of the European Space Agency's exploration programme. ESA is also providing the launch and operations.