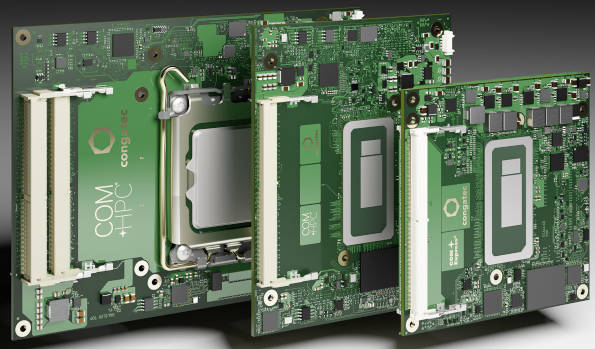 They come in COM-HPC Size A and C, and COM Express Type 6 forms.
The processors offer of up to 14 cores/20 threads in BGA packaging or 16 cores/24 threads in LGA desktop variants, with cores divided into P (performance) and E (efficient) types.
"Intel Thread Director assigns each workload to the proper cores for optimum performance," said Congatec marketing director explains Christian Eder. "Selected processors are also suitable for hard real-time applications with Intel TCC and TSN. In combination with support for Real-Time Systems' hypervisor technology, they are the ideal platform to consolidate a multitude of different workloads on one single edge platform."
The mobile BGA processors have up to 96 Intel Iris Xe GPU execution which, according to Congatec  are estimated to deliver up to 129% improvements in graphics performance compared to the 11th Gen Core processors, and can process parallelised artificial intelligence algorithms faster. LGA processor graphics is up to 94% faster performance and its image classification inference performance has up to 181% higher throughput (see footnote for test criteria).
DDR5 memory is supported, and there is an internal PCIe 5.0 interface for graphics and GPGPU. Desktop chipsets provide up to 8x PCIe 3.0 lanes for additional connectivity and the mobile BGA variants also offer up to 16x PCIe 4.0 lanes off the CPU and up to 8 PCIe 3.0 lanes off the chipset.
The dedicated AI engines of the COM-HPC Client and COM Express Type 6 modules support Windows ML, Intel Distribution of OpenVINO toolkit and Chrome Cross ML.
AI workloads can be delegated to P-cores, E-cores and GPU execution units. "Built-in Intel Deep Learning boost technology leverages different cores via vector neural network instructions, and the integrated graphics supports AI accelerated DP4a GPU instructions that can even be scaled to dedicated GPUs," said Congatec.
Intel Gaussian & Neural Accelerator (GNA) 3.0 can be used for dynamic noise suppression and speech recognition, and for voice wake-up can run during processor low-power states.
Real-Time Systems' hypervisor is supported, and there is operating system support for Real-Time Linux and Wind River VxWorks.
Applications are foreseen in edge computers and IoT gateways incorporating multiple virtual machines for smart factories and process automation, AI based quality inspection and industrial vision, real-time collaborative robotics, autonomous vehicles, mobile machines, video security, 5G cloudlets and edge devices requiring AI supported packet inspection.
Variants:
conga-TC670 COM Express Type 6 Compact (95 mm x 95 mm)
conga-HPC/cALP COM-HPC Client Size A (120 mm x 95 mm)
cores
(P+E)
P-cores
GHz
E-cores
GHz
threads
GPU
units
CPU
base
power
Core i7 12800HE
14 (6+8)
2.4 / 4.6
1.8 / 3.5
20
96
45W
Core i5 12600HE
12 (4+8)
2.5 / 4.5
1.8 / 3.3
16
80
45
 Core i3 12300HE
8 (4+4)
1.9 / 4.3
1.5 / 3.3
12
48
45
conga-HPC/cALS COM-HPC Client Size C (120 mm x 160 mm)
cores
(P+E)
P-cores
GHz
E-cores
GHz
threads
GPU
units
CPU
base
power
Core i9 12900E
16 (8+8)
2.3 / 5.0
1.7 / 3.8
24
32
65W
Core i7 12700E
12 (8+4)
2.1 / 4.8
1.6 / 3.6
20
32
65
Core i5 12500E
6 (6+0)
2.9 / 4.5
– / –
12
32
65
Core i3 12100E
4 (4+0)
3.2 / 4.2
– / –
8
24
60
The Congatec Alder Lake page is here
Footnote:
Congatec provided all test criteria – scroll down here