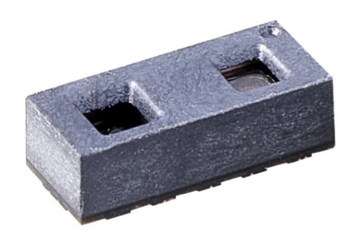 The multi-zone dToF modules TMF8820, TMF8821 and TMF8828 divide their detection area into multiple zones to collect more and higher quality information.
As a result, automated robots gain more "sensory awareness", enabling early detection of potential obstacles.
Special ToF systems are used to enable robots to maneuver around unhindered, enabling them to navigate their environment.
For example, vacuum cleaning robots recognize an object in their immediate surroundings and move around the obstacle. ams OSRAM's new dToF modules allow precise distance measurement.
The TMF8820 dToF module divides the FoV into 3×3 or 9 individual detection zones, the TMF8821 into 4×4 or 16 individual detection zones and the TMF8828 into 8×8 or 64 individual detection zones.
With multi-zone detection, it is possible to identify where an object is located within the sensors' FoV. These new devices feature a dynamically adjustable FoV up to 63°, enabling customers to select either a narrow or wide FoV to meet their application needs.
All three dToF modules have a detection range from one centimeter up to five meters.
The modules combine a 940 nm Vertical Cavity Surface Emitting Laser (VCSEL), a sensitive single photon avalanche photo diode (SPAD) detector array with matching multi-lens optics, and an on-chip microcontroller for histogram processing in one device.
The modules measure 2.0 mm x 4.6 mm x 1.4 mm,