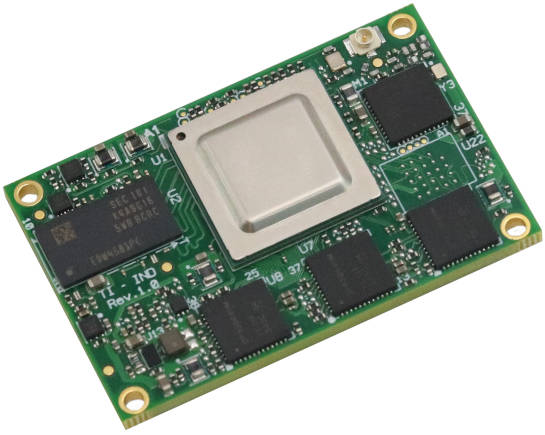 For application processing and running operating systems there is a dual core Arm Cortex-A53, then up to four Cortex-R5F cores for real-time computing, servo control and functional safety.
On top of this sits a Cortex-M4 microcontroller for error monitoring. "An isolated Cortex-M4 core that can work independently from the SoC, with secure boot and hardware-enforced root of trust makes it excellent for mission-critical applications," according to the company.
The modules are 47 x 30mm and work over -40°C to 85°C.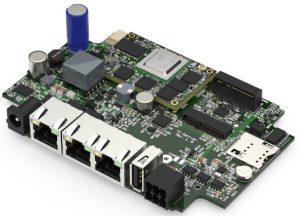 The company also offers 'Hummingboard-T' carrier boards (left) which bring out the module interfaces for prototyping: the AM64X Base and the more capable AM64X Pro.
"To maximize the AM6442 processor's multi-protocol industrial ethernet support, the SOM leverages two built-in gigabit industrial communications subsystems that support protocols such as Profinet IRT, Profinet RT, EtherNet/IP, EtherCAT and Time-Sensitive Networking (TSN)," according to SolidRun. These are "paired with high-speed PCIe, USB 3.0 and integrated ethernet switch interfaces, as well as options like UART, I2C, CAN and ADC".
Another option is to add TI's CC1312 multiprotocol multiband wireless MCU for sub-1GHz communication, allowing the module to support 6LoWPAN, MIOTY and Wi-SUN protocols.
Modules
AM6442R SOM
AM6442A SOM
CPU
TI AM6442
2 x Cortex A53
4 x Cortex R5
1 x Cortex M4
1GHz Industrial
RAM
1GB DDR4 with inline ECC
Internal Storage
8GB eMMC
8GB eMMC and optional QSPI
External Storage Support
NOR flash
SD
PCIe-SSD
Ethernet
1 x 10/100/1000 Mbps (PRU ICSSG, Supporting; TSN, EtherCAT, PROFINET, EtherNET/IP)
1 x 10/100/1000 Mbps
2 x 10/100/1000 Mbps (PRU ICSSG, Supporting; TSN, EtherCAT, PROFINET, EtherNET/IP)
Wireless
Optional CC1312 SimpleLink sub 1GHz wireless MCU
USB 3.0
1
PCIe
1 (Gen 2.0)
I2C
4
SPI
✔
UART
Up to 9
GPIO
✔
PWM
✔
CAN
2
SD/MMC
2
JTAG
✔
OS Support
Linux
Size
47 x 30 mm
Interface
3 x Hirose DF40 connectors
Main Voltage
5V
I/O Voltage
3.3V
Temperature
Industrial: -40°C to 85°C
Humidity
Humidity (non-condensing): 10% – 90%