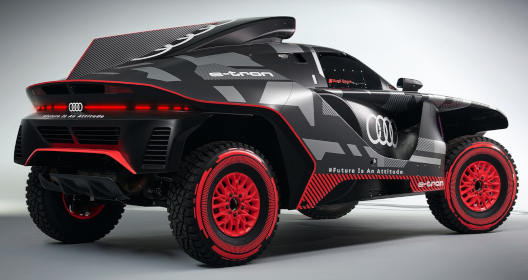 In series hybrids, all drive is via electricity, there is no rotating mechanical link between heat engine and wheels.
Just like a diesel-electric railway train, the intervening electric drive allows the fuel engine to run continuously at its most efficient operating point – in this case, the engine is a petrol two litre four-cylinder turbo from the company's DTM racing car, running at 4,500 to 6,000rpm where specific consumption is <200g/kWh, according Audi.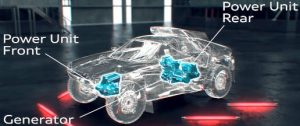 For effective mass distribution, the 370kg battery sits just behind by the front power unit
This engine and its generator sit in the centre of the vehicle, feeding an electric motor on the front axle and an electric motor in the back axle – both derived from the MGU05 motor-generator unit, used in Audi's FE07 Formula E car. "Only minor modifications had to be made to use the MGU in the Dakar Rally," it said.
The electric axles are fixed ratio, each with a software-controlled limited-slip differential, and a virtual centre differential varies torque distribution between the front and rear axles.
The fourth component in the drive train is a ~52kWh lithium-ion battery weighing ~370kg and being charged at up to 220kW.
Total power output is ~300kW, limited by Dakar event rules. 0 to 100km/h is achieved in <4.5s on loose surfaces and top speed, also event-limited, is 170km/h.