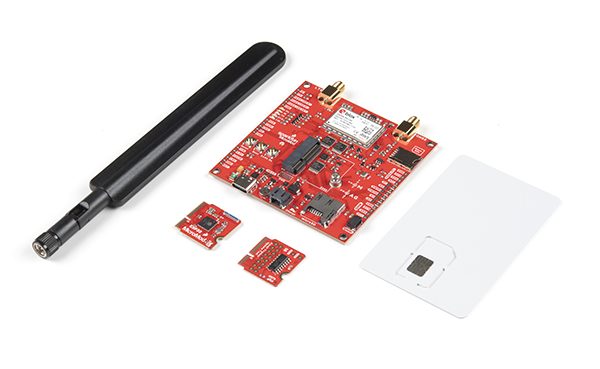 SparkFun Electronics has launched its development Kit, the AWS IoT ExpressLink SARA-R5 Starter Kit – a product of its collaboration with u-Blox and AWS, to make development using AWS IoT core via a cellular LTE-M network easier.
The AWS IoT ExpressLink offers connectivity software across hardware modules offered by AWS Partners like u-Blox, Infineon, and Espressif. It aims to provide easy connectivity to the cloud with integration into more than 200 AWS IoT services like AWS IoT core. The AWS IoT ExpressLink being a secured out-of-the-box and over-the-air (OTA) connectivity platform for all types of devices, makes it easy to transform existing devices into smart IoT projects.
As the name implies, the development Kit designed for development with the u-blox SARA-R510-AWS module is built on AWS IoT ExpressLink to offer access to AWS IoT core. The Starter Kit comes with a pre-activated u-Blox Thingstream eUICC SIM card which supports cellular communication over a multi-regional network via an LTE antenna also included. It also features a MicroMod Asset Tracker Carrier Board that carries a SARA-R5 module, an ESP32 processor board for running demo applications, and a MicroMod Update Tool for guidance on the use of the MicroMod Asset Tracker Board. The Starter Kit takes power via a USB-C, a breakout pin, or a LiPo battery.
The SparkFun MicroMod Asset Tracker Carrier Board is designed to carry a MicroMod Processor board and allow different microprocessors to be used with it. The Carrier Board comes with an integrated ICM-20948 Inertial Measurement Unit (IMU) and a digital microphone. The IMU which detects the device's orientation and movement allows a message to be generated and sent whenever the device – asset, is moved from its specific position. The digital microphone being inbuilt allows the device to detect noise that can be dangerous to the system and send an alert, ensuring the safety of the device. The Asset Tracker Carrier Board is also equipped with an onboard micro-SD card socket, and a SIM card slot with a 250 MB global data size SIM card already installed.
Features and Specifications of the AWS IoT ExpressLink SARA-R5 Starter Kit:
Transceiver: u-Blox SARA-R510-AWS module for secure multi-regional AWS IoT Core access
1x MicroMod Update Tool included for communicating directly with the u-Blox SARA-R510AWS module.
Controls:
ICM-20948 Inertial Measurement Unit for 9-Degree Of Freedom orientation and movement detection
"Wake On Motion" is supported
IMU is located in the center of the board for easy frame-of-reference
1x SPH0641 – Digital microphone
Storage:
micro-SD socket (for data storage)
Power/Supply:
Support rechargeable LiPo batteries
LiPo battery charger (MCP73831) with battery fuel gauge (MAX17048)
1x RTC backup battery
Network/wireless:
SMA connection for LTE
SMA connection GNSS antennas
3.3V power for an active GNSS antenna (switchblade)
Connectors:
USB-C connectivity
Nano SIM socket
Qwiic (I2C) connector
3.3V breakout pins for:
1x SPI bus
GNSS timing pulse (1PPS)
D0, D1, A0, A1 PWM0, PWM1
1x SARA I2C
1x Network indicator
SARA-R5 ON
1x I2C bus
LED indicators:
1x Power (VIN and 3.3V)
1x Network indicator
1x SARA-R5 ON
GNSS timing pulse (1PPS)
Video
The SARA-R5 module-based Starter Kit only accepts customized AT Commands, the AWS IoT ExpressLink AT Commands, and will not work with the standard u-Blox SARA-R5 AT Command set. However, SparkFun has provided information on a Hookup Guide for assistance with how to link the MicroMod Update Tool to the SARA-R5 based Asset Tracker Carrier Board. The Company also provides AWS IoT ExpressLink Examples to run on the MicroMod processor on its GitHub repository. 
However, SparkFun advises Customers to confirm that their service provider offers LTE-M coverage before purchasing the starter Kit. More information is available on the product's page where the product is also available for order at $185.00 on the same page. Information on AWS IoT ExpressLink is available on AWS website.