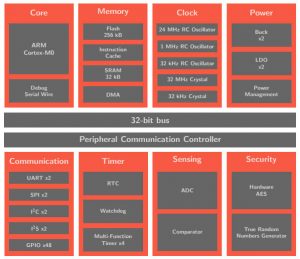 Called EDMS105N, the 32bit 24MHz device is claimed to be "the lowest power consuming Cortex-M0 MCU to be commercially available", said the company.
Amongst the sleep states is one which draws 340nA with its real-time clock running and 8kbyte of SRAM retained.
UART, I2C and I2S, GPIOs, ADC and voltage regulation are promised as well.
"The release of our EDMS105N MCU is the culmination of many years of in-depth research and development work, and we are excited to see how extensive an impact it will have on the IoT sector in the years ahead," said e-peas CEO and co-founder Geoffroy Gosset. "This is the first of a series of announcements that are going to take us towards being a one-stop shop for all the ICs needed for extremely low power systems."
Operation is across 1.8 – 3.3V and there is an inductive buck converter as well as LDOs. Memory includes 256kbyte single-cycle flash and 32kbyte SRAM. Three on-chip RC oscillators are planned: 32.768kHz, 1MHz and 24MHz, plus crystal drivers for 32.768kHz and up to 32MHz.
Timers include four 32bit with two compare/capture channels, a real-time clock with calendar and millisecond counters, and a 32bit watchdog.
Security is enhanced with a 128bit AES module (with ECB, CBC and CTR mode support) and a hardware true random number generator.
The ADC will be 12bit 500ksample/s with a FIFO, accumulation and averaging – and a rail-to-rail analogue comparator will be included.
According to the company, you can get more information on the IC if you visit booth 61225 at CES, or you can just download the EDMS105N product brief.