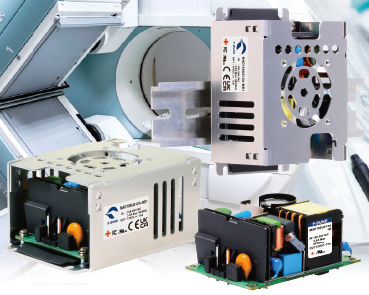 P-Duke has introduced medical grade PSUs that deliver 150W convection cooled, 180W fan cooled, and boost to 220W for 5s.
The MAD180 series has 2xMOPP insulation and leakage current <100µA. "Being certified with EIC/EN/ANSI 60601-1 makes this supply suitable for any safety demanding type BF medical application," said Luso, with is representing P-Duke in the UK. "It comes in 2 x 3inch  open framed or encased – and a DIN-rail version is also available." (see photo)
The input covers 85 to 264Vac as well as 120 to 370Vdc input range.
Single output versions include: 12, 15, 18, 24, 28, 36, 48, 53Vdc single output voltage, with an integrated potentiometer to adjust these ±8%.
Protections include: over-voltage (latched), over-current (hiccough and auto-recovery), short-circuit (continuous and auto-recovery) and over-temperature (hiccough mode and auto-recovery).
Efficiency is up to 94%, power factor is corrected to 0.95, no-load power consumption of 150mW max and IEC protection is class I or class II.
Operation is across -40 to +85°C and up to 5,000m, and Luso describes the internal electrolytic capacitors as "long-life" – product warranty is five years.
Certification is to IEC/EN/UL 62368-1 and IEC/EN/ANSI/AAMI ES 60601-1, then conducted emissions is EN 55032 Class B and radiated emissions EN 55032 Class A.
Applications are foreseen in MRI scanners, laser treatment, X-ray and patient monitoring.
Samples are available now.