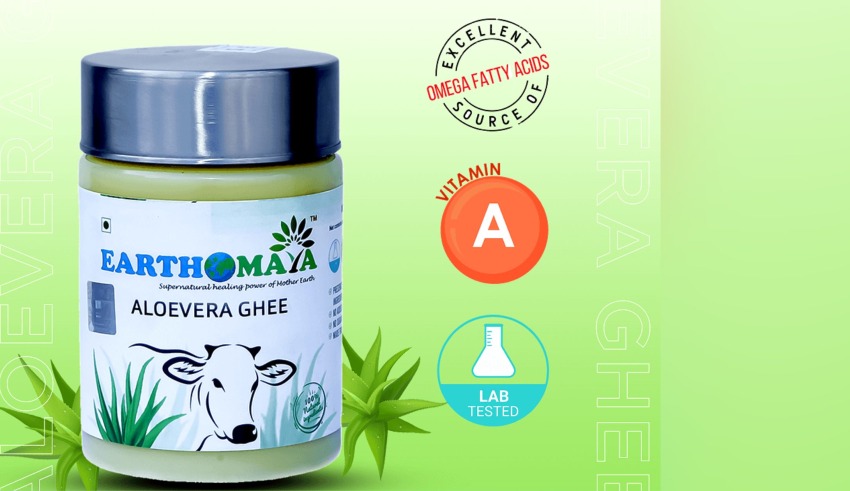 We've all heard of the superfood aloe vera and cow ghee since we were teenagers, if not earlier. The botanical substance in Aloe Vera is undeniably a nutrient powerhouse for skin and hair that can help with various issues. Likewise, the significance of cow ghee in Indian culture has been recognized from ancient times. Pure ghee is traditionally created from cow's milk and is considered a superfood.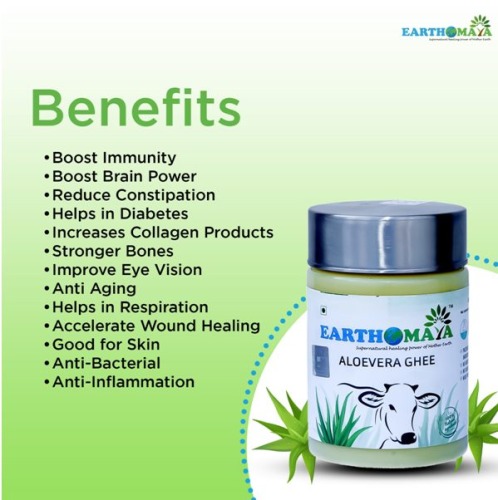 What if we tell you that you can benefit from one such product with these two hero ingredients? Yes! You heard that right! Earthomaya has come up with a brand new and unique product named Earthomaya AloeVera Ghee that contains aloe vera and cow ghee as major ingredients. It has excellent benefits for your overall health along with your skin and hair. Let's know how it helps!
Aloe Vera Ghee for Your Skin
All skin types benefit from aloe vera ghee. It contains up to 95% water, giving it a hydration enhancer unlike any other. Many people are unaware that aloe vera also contains salicylic acid, which is why it's popular acne and blemish treatment.
Hydrates the Skin
Aloe vera ghee is an excellent moisturizing agent that replenishes the moisture in your skin. It has high water content and is abundant in vitamin E, which can help to nourish your skin.
For Treatment of Dark Circles
Aloe Vera Ghee is an excellent alternative to under-eye lotions and serums. Before going to bed, apply ghee to your eyelids and under your eyes. The following day, wash it with normal water. In no time, you will witness results.
For Parched & Dark Lips
Using your fingertip, gently rub a drop of aloe vera ghee over your lips. Allow it to sit overnight. The following day, your lips will be soft and pink.
For Flaky Skin
Use aloe vera ghee in your face pack to revive dull, lifeless skin. To make a paste, combine ghee, raw milk, and besan. Apply it to your face and neck, then wait 20 minutes before rinsing it off.
Helps in Sunburn
Aloe vera Ghee's cooling, relaxing, calming, and anti-inflammatory characteristics are extremely useful in mending and eventually curing sunburns. You can also apply aloe vera ghee to your skin after any hair removal surgery or if your skin is flushed and inflamed.
Reduces Acne
As previously stated, aloe vera includes salicylic acid, which fights acne, blackheads, and whiteheads. Additionally, the plant's vitamin C can help to diminish pigmentation and scarring.
Works Wonder On Dry Skin
For soft and smooth skin, warm a little aloe vera ghee and apply it to your body before bathing. If your skin is dry, combine ghee and water and massage it in. After 15 minutes, wash.
Aloe Vera Ghee for Hairs
Aloe vera ghee is not only a terrific skin moisturizer, but it also nourishes the scalp and hair, producing better hair.
Helps in Itchy Scalp
If you have dandruff or a scalp prone to flakiness, you know how irritating and uncomfortable it can be. Aloe vera ghee is a natural cure for it, with soothing and moisturizing characteristics that work together to relieve such a disease. It's also anti-inflammatory, antibacterial, and antifungal, making it a natural itch reliever.
Strengthens Hair
Because aloe vera ghee relieves dandruff, the pores are unclogged, stimulating hair development. Aloe vera ghee also contains vitamins, amino acids, and fatty acids, strengthening the hair and encouraging hair development.
For Hydrating Hairs
One of the most common reasons for dull, dry, and damaged hair is a lack of moisture. Aloe Vera Ghee's nutritional and rich fatty acids nurture the scalp and hair follicles from the inside out, providing hydration and rejuvenating hair health.
Improves Hair Texture
Ghee can be applied straight to the hair and scalp to improve the texture and give the hair more gloss and smoothness. Simply melt a teaspoon of aloe vera ghee in the microwave. Dip your fingers in it and rub your scalp and hair lightly. Allow it to sit for a few hours before washing it with shampoo.
It Has A Deep Conditioning Effect
You can leave the ghee in your hair overnight. Aloe Vera ghee can also be used as a deep conditioning treatment for your hair overnight. Use a shower cap to avoid the oily mess if you are comfortable.
Encourages Hair Growth
A scalp massage with warmed aloe vera ghee can condition and promote blood circulation. This can encourage hair development, resulting in thicker, longer hair.
Isn't it amazing how much good Aloe vera ghee has to offer in terms of skin & hair benefits? There are even more reasons to start consuming Aloe vera ghee regularly.
Conclusion
The amazing factor is just 2 ingredients (namely aloe vera and pure desi ghee) and multi-benefits with zero additives & preservatives. The best deal is caring hair and skin in just one pack.