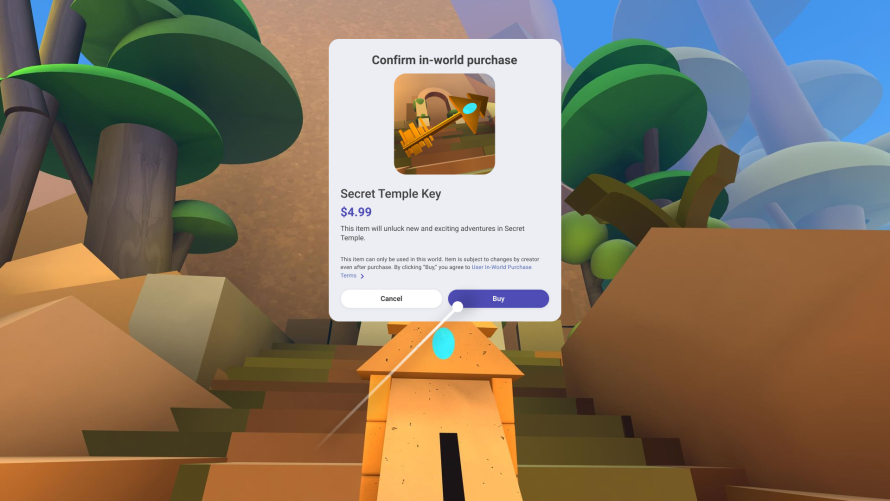 Meta has begun testing a number of new tools that will allow developers to experiment with various methods to monetize Horizon World, a social VR platform in the meta-universe. As part of it, the metaverse now allows creators to sell virtual items, and the Horizon Worlds Creator Bonus program is used to fund them.
Selling Virtual Items and Effects means creators will be allowed to sell virtual items (say, attachable accessories for a fashion world) and effects within their worlds. However, the company has only a handful of creators as the testing is in its initial stages.
Purchasing items in Horizon Worlds is available to people aged 18 and over in the US and Canada, where Horizon Worlds is currently available. Creators selling items will see a "Commerce" tab and a gizmo when they're in "Create" mode that lets them create purchasable items.
Another monetization method the company has started to test is the Horizon Worlds Creator Bonus program, which allows creators to earn bonuses when they complete their monthly goals. Creator bonuses are not subject to fees and will be paid to creators in full. For now, in this limited test, creators will be rewarded for building worlds that attract the most time spent. This programme is currently being tested by participants in the US. 
The company is utilizing the $10 million Horizon Creator Fund, which it introduced last October, to support metaverse creators. Furthermore, the company also said that it's coming out with more tools and support for all creators that make building new worlds even easier.
Regarding this matter, meta in their official blog post said that,
As part of our ongoing commitment to support creators, we're beginning to test several new tools that will enable creators to experiment with different ways to monetize what they're building in Horizon Worlds. While we're launching this today as a test with a handful of creators to get their feedback, these types of tools are steps toward our long-term vision for the metaverse where creators can earn a living and people can purchase digital goods, services, and experiences.