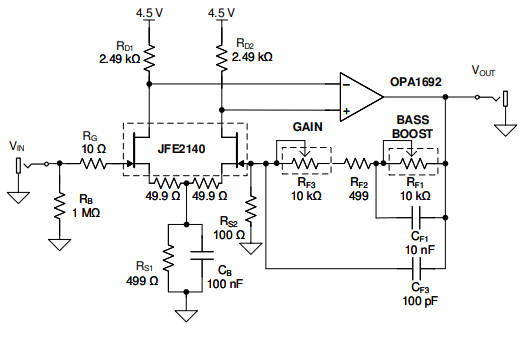 Well, TI did in August: the JFE2140.
Its target is high-end audio amplifiers.
Thoughtfully integrated with lots of clamping diodes (12 of them), the pair achieves:
0.9nV/√Hz voltage noise (1kHz, 5mA Ids)
1.1nV/√Hz voltage noise (1kHz, 2mA Ids)
1.6fA/√Hz current noise (1kHz)
4mV max Vgs mismatch
10pA max gate current
13pF input capacitance (5Vds)
-40V gate-drain and gate-source breakdown
30mS transconductance: 30 mS
Application circuits in the data sheet include audio amplifiers (for example see above circuit) and a professional audio high-input-impedance front-end for an OPA1637 ADC.
Packaging is 2 x 2mm, and there is also what looks like a single version, the JFE150.
Web pages:
JFE2140 (and data sheet)