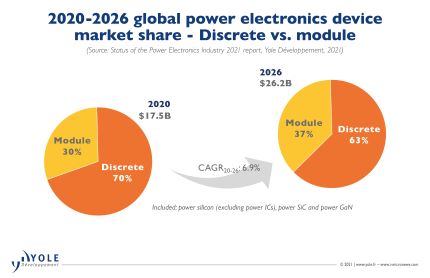 Automotive, industrial motor drives, and telecom will be the main drivers of the discrete component market segment taking it to more than $16 billion in 2026.
EV, industrial motors, and home appliances will drive the power module market to almost $10 billion by 2026.
The top three power electronic device manufacturers are: Infineon, ST and OnSemi.
"Looking closely at the different power electronics component types, three essential items must be considered," explains Yole's Ana Villamor, "indeed, today, it is crucial to follow the low-power market segment with MOSFETs. In parallel, IGBT modules are key for EV and industrial applications. Ultimately, at Yole, we investigated in depth the SiC technologies for MOSFET discretes and modules for EV applications".
The low-power market, ruled by silicon MOSFET components, will continue growing at 3.8% CAGR2020-2026. This segment is pushed by consumer electronics, automotive auxiliary systems, and small power industrial applications.
Consumer applications account for a significant portion of the Si MOSFET demand. GaN will grab a share of the silicon MOSFET market, mainly for fast chargers for consumer electronics.
Automotive auxiliary systems are showing "an enormous increase", says Yole.
IGBT modules are expected to grow at 7.8% CAGR  2020-26 pushed by EV and industrial applications. PV , wind, and BESS (Battery Energy Storage System).
The is also a growing penetration of SiC MOSFETs and modules into EV applications.