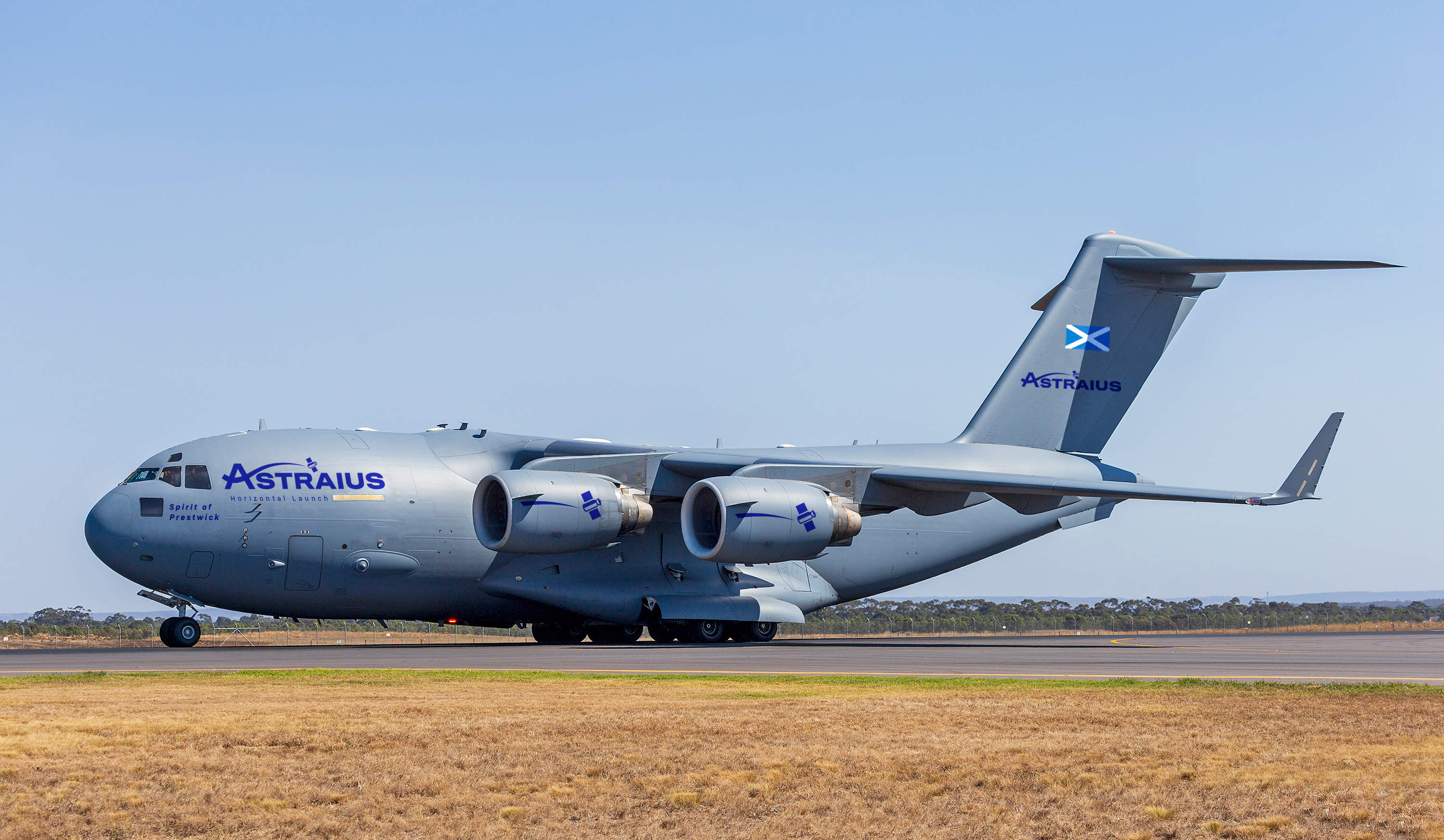 The Proposal of Application Notice (POAN) is described as the first step in the planning process for Glasgow Prestwick Spaceport, which says it signals the intent to apply for planning permission in "early 2022".
The spaceport plans to support "horizontal" launches, in partnership with launch service provider Astraius, where instead of using a rocket launch pad on the ground the payload is launched by rocket mid-air from an aircraft, which means traditional airport infrastructure can be (re)used. It aims to conduct its first rocket launch by the end of 2023.
The wider significance, for beyond the south of Glasgow, is that – given increasing national spending on space programmes – the first mover advantage for cheaper, proven launches will prove significant when the large number of satellite projects head towards launch decisions.
Environmental impact
The submission of the POAN follows South Ayrshire Council's submission of an Environmental Impact Assessment Screening Report last year, which stated that Prestwick's space ambitions would not result in any significant adverse effects to the environment.
The horizontal launches from Prestwick will involve small satellites, such as CubeSats, as the aircraft will carry the rocket containing them to a high altitude above the ocean. Once beyond inhabited areas, and above the densest layer of the atmosphere, the rocket can carry its payload to orbit.
Launch operations at Prestwick will therefore consist mainly of processing rockets and their payloads, loading them on to a launch aircraft, and then conventional aircraft take-offs from the existing airport runways.
To provide this capability, Prestwick Spaceport has signed a Memorandum of Understanding with Astraius, the UK-based commercial horizontal launch company. It plans to use aircraft that require no modification and will be able to place the small satellites into a variety of orbits.
Possible applications for such satellites include monitoring climate information or tracking supply chains to ensure that products in supermarkets are sustainably sourced. Interestingly, the city of Glasgow designs and manufactures more CubeSats than any city outside of the USA, states Prestwick Spaceport.
Aerospace and Space project
"We are delighted to see the next stage of the Prestwick Spaceport being developed," saif Zoe Kilpatrick, Commercial Director at Glasgow Prestwick Airport (pictured 2nd right above). "We are building an industry in Ayrshire which will create jobs and investment for years to come."

"2022 will see further developments as we partner with more organisations to grow and expand our space capabilities here at Glasgow Prestwick Airport. It is a very exciting time to be involved with the project and I look forward to seeing progress made over the coming months as we approach our first launch in 2023."
The work at South Ayrshire – described as the "Aerospace and Space project" – is being funded with £32 million from the UK Government, £30 million from the Scottish Government, and £18 million from South Ayrshire Council as part of the £251 million Ayrshire Growth Deal – a ten year investment programme jointly funded by the UK and Scottish governments and local authorities.
Astraius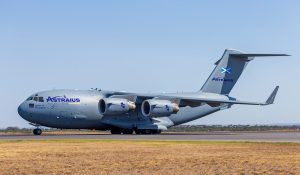 The C-17 Globemaster military transport aircraft, pictured above, will operate from the Spaceport to carry and launch the Astraius rocket, to provide the 'air-launch' platform.
According to Astraius, its payload processing, vehicle integration, launch telemetry and a new mission control centre, will provide one of the most advanced launch facilities in the world.
Sutherland
A rival Scottish spaceport – Space Hub Sutherland – has recently made moves towards "vertical" launches. Back in December, the company Orbex announced it had started construction of a Launch Platform also in Scotland, but near Kinloss. The first orbital space launchpad to be built in the UK for more than half a century, it declared.
Orbex will eventually operate its launches from Space Hub Sutherland, and hopes to see, in 2022, the first UK commercial launch for ABL Space Systems' new RS1 rocket, which is a project dubbed "UK Pathfinder Launch". The Kinloss site is for running tests, before re-locating to the A' Mhòine peninsula.
Spaceports
The UK Space Agency currently recognises seven spaceports. Five are in Scotland, one in Wales and one in England.
They are: Spaceport 1 (Scolpaig Farm, North Uist,Outer Hebrides, Scotland), Spaceport Machrihanish (Campbeltown, Argyll, Scotland), Prestwick Spaceport (Prestwick, South Ayrshire, Scotland), Space Hub Sutherland (A' Mhòine peninsula, Sutherland, Scotland), Shetland Space Centre (Lamba Ness, Unst, Shetland Islands, pictured), Spaceport Snowdonia (Llanbedr, Gwynedd, Wales) and Spaceport Cornwall (Cornwall Airport, Newquay, England).
See also: Scotland, Wales, Cornwall – we have Spaceport lift-offs