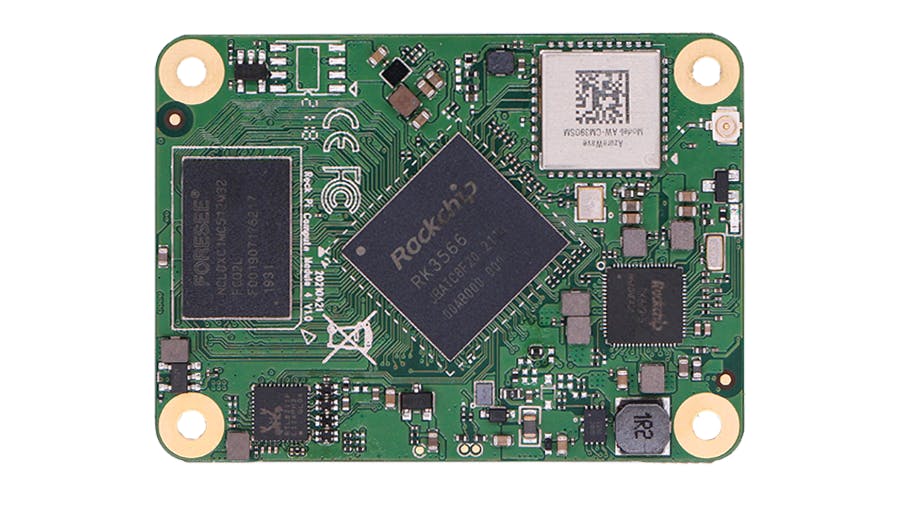 Shenzhen-China based Open Source hardware manufacturer, Radxa has launched its system on module (SoM), Radxa CM3 which the company says is "a drop-in-replacement for Raspberry Pi CM4" for open hardware developments and deployments.
The Radxa CM3 is built on Rockchip RK3566 SoC with a 2GHz, quad Cortex-A55 core with an ARM G52 2EE graphics processor with OpenGL ES 3.2, OpenCL 2.0 and Vulkan 1.1 support; and a Neural network processor (coprocessor) with 0.8 TOPS performance rating. The Radxa CM3 SoM also features DRAM of up to 8GB, 128GB eMMC storage, WiFi 5/BT 5, display interfaces with dual support, and other resources which are furnished on a three 100pin B2B connector.
According to the company, the CM3 has been tested with multiple CM4 carrier boards including the Raspberry Pi CM IO board and it turns out that the boards can work well with the CM3 without the need for tweaks.
Key Features And Specifications Of Radxa CM3:
Rockchip RK3566, Quad core Cortex-A55 (ARM v8) 64-bit SoC @ 2.0GHz
Options for 1GB, 2GB, 4GB or 8GB LPDDR4-3200 SDRAM + ECC; Options for 0GB, 8GB, 16GB, 32GB, 64GB, 128GB eMMC Flash, 250MBytes/s (Peak eMMC bandwidth)
Single +5v PSU
Option for WiFi5/BT5
Gigabit Ethernet PHY(RTL8211F), IEEE 1588 support (optional)
1x high-speed USB 2.0 port
1x USB 3.0 port (5Gbps)
1x PCIe 1-lane Host, Gen 2 (5Gbps)
2 x SATA ports, one shared with USB 3, one shared with PCIe
1 x HDMI (up to 4K60)
2 × 4-lane MIPI DSI display port (MIPI DSI0, MIPI DSI1), 1 x 4-lane LVDS support (shared with MIPI DSI0)
1 x eDP up to 4K60
1 × 2-lane MIPI CSI camera port
1 × 4-lane MIPI CSI camera port
1 x SDIO 3.0
Audio Codec
50 × GPIO supporting either 1.8v or 3.3v signaling and peripheral options: Up to 8x UART, Up to 8x I2C, Up to 4x SPI, 1x SDIO interface, 1x PCM, Up to 8x PWM channels, 2x ADC, 3x 100Pin B2B connector
Dimension: 55mm × 40mm × 4.7mm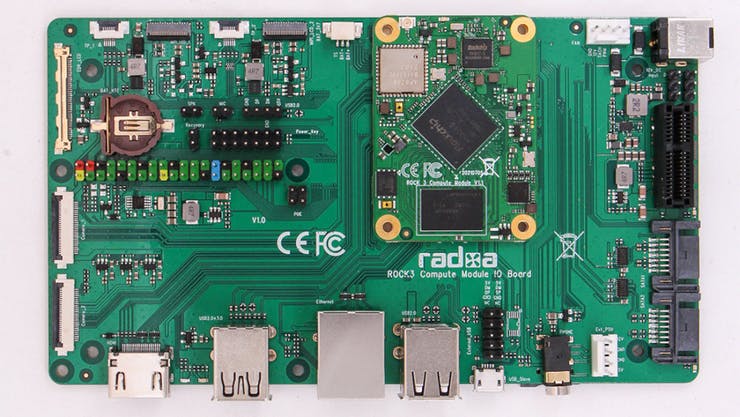 Radxa has also made available its CM3 IO board, a dedicated board for makers to use the extra features of CM3 at deployment.
Here are some of the features of the CM3 IO Board:
Multiple display interfaces support: HDMI, 2x MIPI DSI, eDP, dual display (at the same time)
2x MIPI CSI support (at the same time)
1x PCIe card
ATX case mount support
Up to 2x SATA (one shared with USB3.0 while the other shared with PCIe 2.0)
Operating System: Ubuntu, Debian, and Android
Dimension: 170 mm x 85mm
The Radxa CM3-beta is available for hardware developers doing real testing on projects. Radxa has provided a Github repository for free beta hardware applications.
Further information on the Radxa CM3-beta is available on the Radxa forum and the Wiki page.