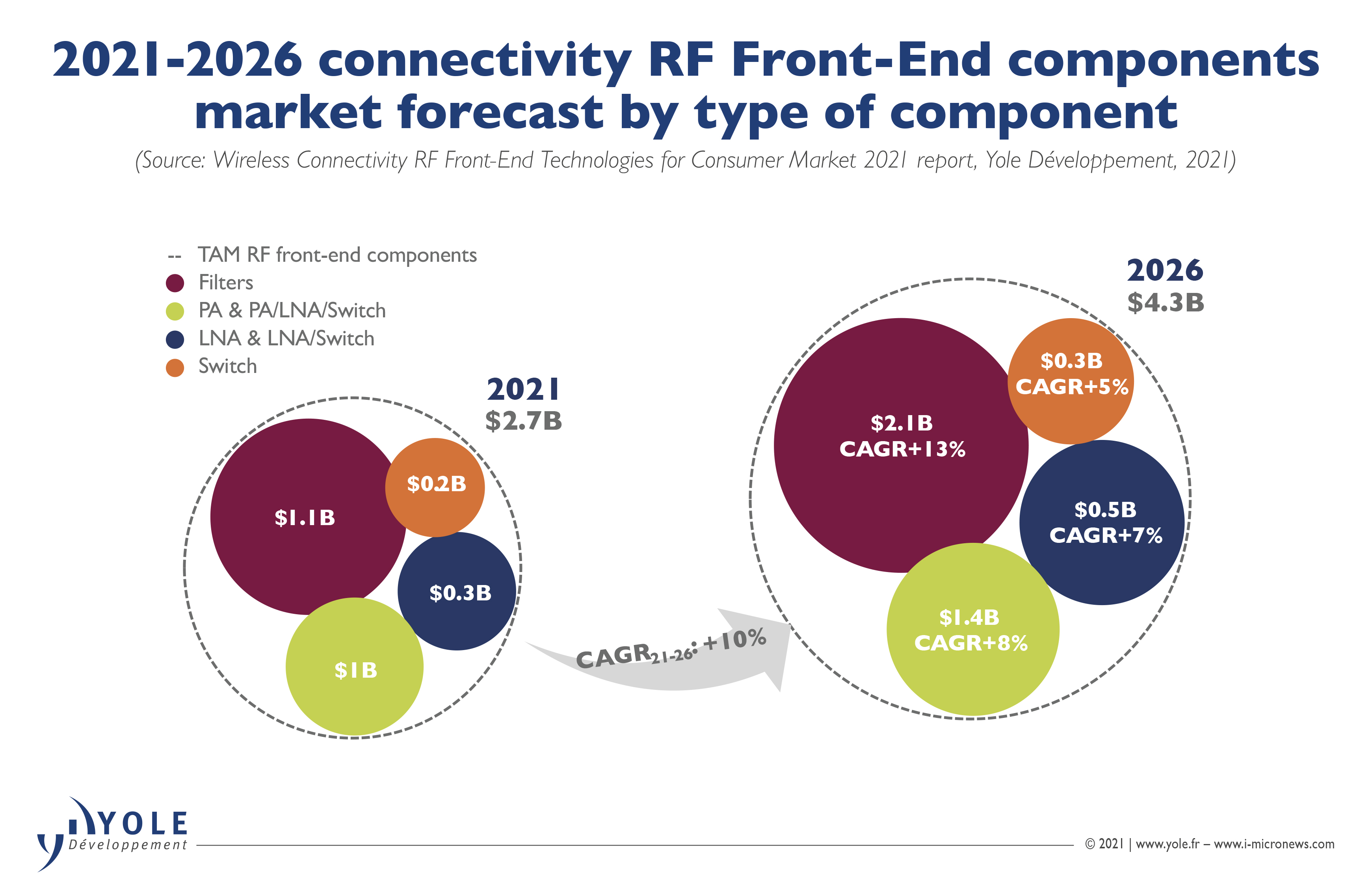 RFFE devices for smartphone, tablet, and laptop connectivity are responsible for over $2 billion market valuation in 2021.
PA will drive more volume and value from the connectivity market as an effect of 2×2 MIMO uplink and tri-band operation (2.4, 5, 6 GHz). 
The switch and LNA component market will also be driven by 2×2 MIMO operation, as well as dual-band operation. 
Monolithic PA/LNA/switch platforms have emerged that will make this architecture attractive for smartphones and tablets again.
Major companies such as Qualcomm, Qorvo, Skyworks, Broadcom, and Murata are working on multiple filter technologies, offering both SAW and BAW filters.
Although its evolution is less noticeable than cellular standards, Wi-Fi is as important as 5G in this acceleration of the digital transformation.
 Yole estimates that consumer mesh systems will penetrate the market more rapidly, growing from 15 million units shipped in 2021 to 56 million units in 2026. 
At the same time, the volume of consumer routers will remain stable YoY, but the RF BoM will further increase with the higher penetration of 4×4 MIMO, Wi-Fi 6E, and the future Wi-Fi 7 6GHz band.
Bluetooth standards are also being optimised for specific use cases; for example, Bluetooth Low Energy audio (BLE Audio) is becoming crucial to serving the true-wireless stereo hearables market. 
The new BLE Audio offers a new high-quality codec (LC3 Codec) that provides a good power consumption/audio quality compromise; this was completed with the multi-stream capability that enables simultaneous transmission to multiple audio sink devices. 
This new capability comes at a crucial time for the hearables market, where the volume of TWS earbuds and wireless headsets is expected to more than double, from 387 million units shipped in 2021 to over 900 million units expected to be shipped yearly by 2026, with Apple leading this market. 
With its highly precise positioning and localisation capabilities, UWB has also benefited from Covid as it gains traction in the consumer market for contract tracing, and touchless access.
This technology is also being introduced in the automotive industry by, for instance, BMW, Volkswagen and others. It could ultimately replace the keys.
According to Yole, two factors will lead to significant growth in the connectivity RFFE  device market analysed. 
The first is the volume growth of specific devices, such as wearables embedding a 2.4GHz SAW filter, while the second is the addition of new RF chains for 2×2 and 4×4 MIMO devices, plus the 6GHz band RF chains. 
The number of 6GHz chains will vary depending on the device, whereas the use of 4 6GHz RF chains is increasingly popular for backhaul in mesh Wi-Fi devices. 
 
Smartphones, tablets, and laptops take the lion's share. Here Yole's RF team estimate that Wi-Fi/BT/UWB is responsible for an RFFE market valued at $2 billion in 2021, while by 2026, this Connectivity RFFE market will grow to l$3 billion with an 8.4% CAGR between 2021 and 2026, excluding the chipsets' market value. 
This increase is driven by the rapid implementation of UWB, Wi-Fi 6E, and 2×2 MIMO in smartphones, translating into a higher connectivity RF BoM