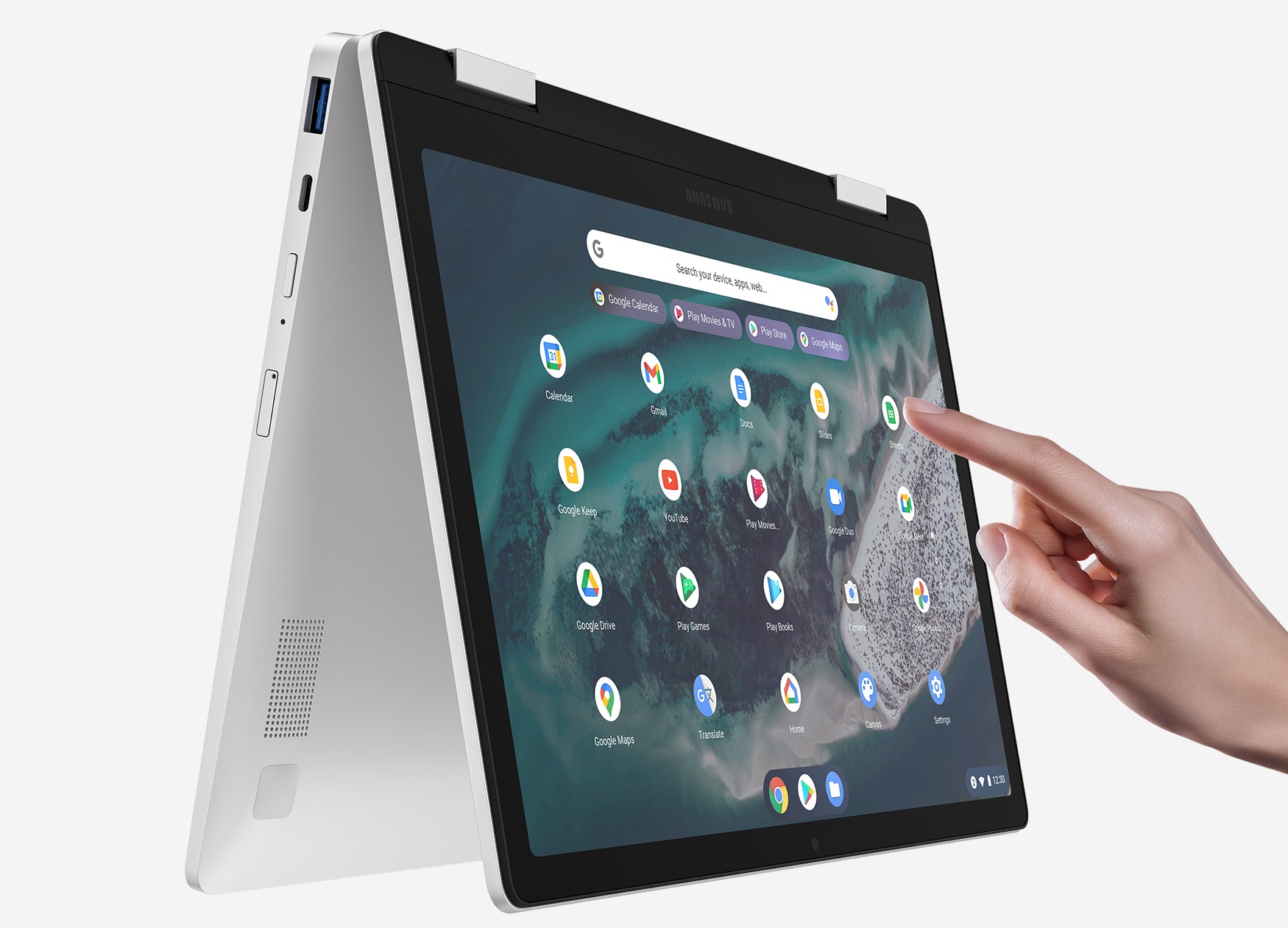 I know Chromebooks are not for everyone, but they just get the job done, and cheaply, OK*
*If the job involves web-based interactions, some word processing and or image editing and general file management…
Anyhoo, back to the latest Galaxy Chromebook. Powered by an Intel Celeron N4500 with 4GB of memory and 64/128GB of storage, Samsung boasts that it provides "the ultimate immersive viewing experience" with a slim bezel and 12.4-inch (2560 x 1600 WQXGA TFT) touchscreen display. Ports comprise: USB-C (2), USB 3.2, HP/Mic, microSD, Nano security slot. It weighs 1.28 kg.
Samsung also writes:
"With fast and secure 4G LTE support for an always connected experience, the Samsung Galaxy Chromebook 2 360 is also Wi-Fi 6 Ready, so users will be able to enjoy more bandwidth and a faster 6GHz internet connection at home or school. Built for uncapped productivity, experience online learning like never before, plus enjoy super-smooth video chats in any situation."
The spec is as follows:
Processor

Intel Celeron N4500

Graphics

Intel UHD Graphics

Memory

4GB LPDDR4x

Storage

64 /  128 GB eMMC

Display

12.4″ 2560 x 1600 WQXGA TFT

243 ppi, 350 nits

Battery

45.5  Whr (Up to 10 hrs)

Cameras

HD 720p, 1MP

Thickness/Weight

16.9 mm / 1.28 kg

Speakers

1.5W x 2

Security

TPM (Google H1)

Ports

USB-C (2), USB 3.2, HP/Mic, microSD, Nano security slot

Network

Wi-Fi 6, LTE (Optional)
Pricing
In terms of availability and pricing, from tomorrow the Galaxy Chromebook 2 360 will be available in Samsung channels and the major UK retailers.
For pricing, Samsung specifies, these options:
Wi-Fi / 4GB / 64GB / Silver – RRP £419
LTE / 4GB / 128GB / Silver – RRP £499
And for those still reading and interested, you can find out more on the Samsung website.
See also: Gadget watch: HP X2, the first detachable Chromebook