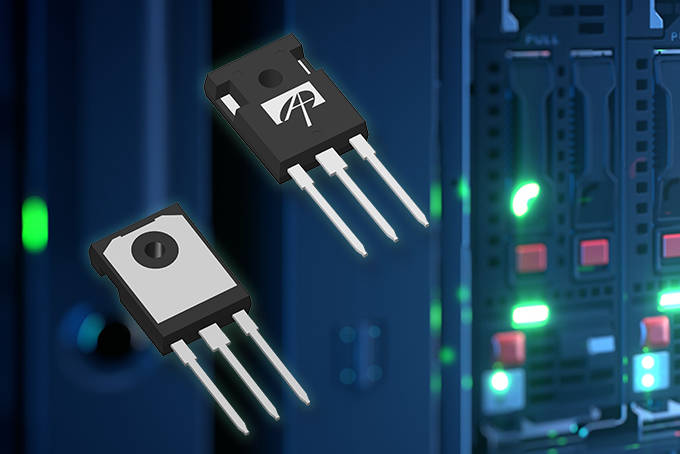 Branded αMOS5, its first members are both 600V 250A transistors in TO-247 packaging: the 40mΩ AOK040A60, and the 42mΩ AOK042A60FD 'fast body diode' device – reverse recovery is typically 252ns (25A, 100A/μs, 400V) compared with 525ns in the 40mΩ part.
"The optimised capacitance of the 40mΩ product will provide customers the best hard and soft switching performances, with fast turn-on and turn-off behaviours, while avoiding the risks of self-turn-on or shoot-through," clamed the company. "The 42mΩ fast body diode device is designed to handle the repetitive hard commutation scenario, where the mosfet's freewheeling body diode is reversely recovered in half-bridge or full-bridge topologies. It will increase system reliability where hard switching happens during abnormal operations such as short-circuit or start-up transients."
The 40mΩ standard recovery part is to be followed by 31mΩ, 65mΩ and 80mΩ versions.
Applications are foreseen in data centre power, 5G rectifiers, electric vehicle charging and photovoltaic inverters. "As EU ERP Lot9 regulation pushes the efficiency of single PSUs to Titanium level, AOS aMOS5 600V family provides an ideal solution for single, interleaved, dual-boost, totem-pole and Vienna power factor correctors, as well as other hard-switching topologies," said the company.
Data sheets