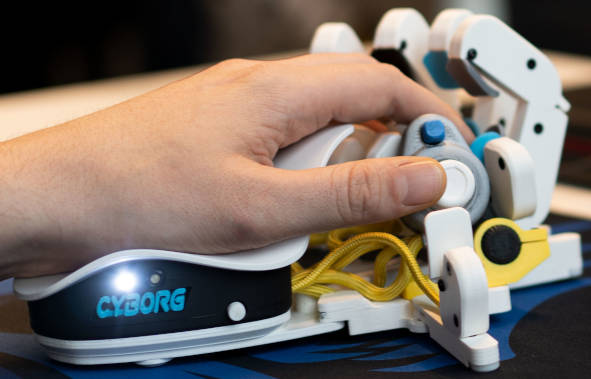 Fingers get keys below, in front and above them, some get side buttons as well – so four or more buttons each – and the thumb has plenty of things to press and wiggle too. All are within easy reach for anyone prepared to train themselves to use it.
An example of mass customisation, many of the parts are 3d printed to suit each customer – the order form has a huge range of options, then when it arrives the finger buttons are on slides that can be set for different hand sizes. Making a good sized chunk of the population happy, there are left-handed versions too.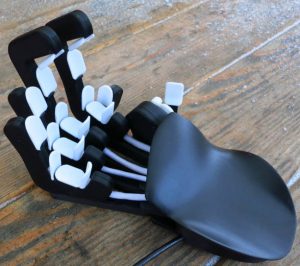 Instead of needing extra full-time interface software, Cyborg sends standard keyboard and mouse codes to its host PC.
The mapping between its keys and these codes can be changed, and more than one set-up can be stored in the controller.
Electronics Weekly got to hear of this novel user interface through Omron, which is supplying 23 switches for each Cyborg: D2F microswitch (below), which is 5.8 x 12.8mm and 6.5mm high plus pins.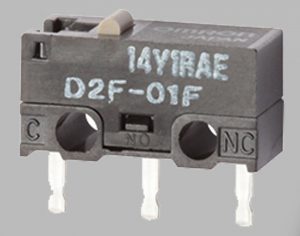 The 140 – 160gf operating force version is used, heavy enough to provide a feeling of resistance but light enough to make the switch easy to actuate even when flicking the finger upwards, according to Omron.
"We have received universally good feedback on the switches since we standardised them in 2020, so decided to continue to use them in the Cyborg," said Azeron founder and designer Imants Daigins. Using them in two earlier products "proved to us that Omron switches could withstand intensive use, sometimes in an aggressive competitive environment".
Away from gaming, use with graphics packages, music editing, video editing and audio-visual post processing is envisaged, said Omron, as well as by people less able to use traditional keyboards.