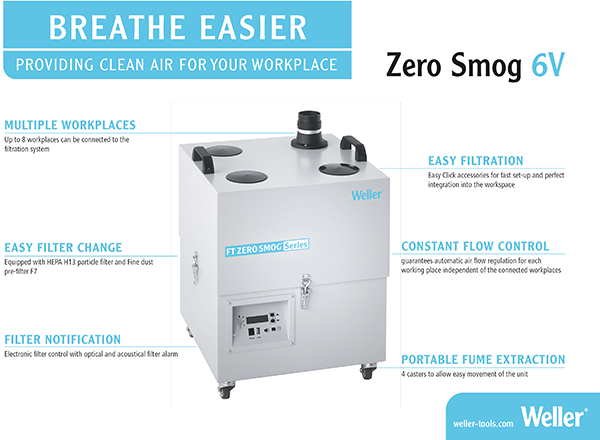 Weller Tools, the world's No.1 brand in hand soldering solutions, is pleased to announce that its Zero Smog 6V Fume Extraction System can connect up to eight soldering workbenches.
The Zero Smog 6V (ZS 6V) Fume Extraction System is user-friendly with quick and simple installation and filter exchange. It has a low noise emission level and is small and convenient to locate within the work area. The high-quality components used in the ZS 6V result in low servicing requirements and long system life.
To increase filter lifetime and save on energy, the ZS 6V is fitted with constant flow control (CFC) – depending on the number of connected workplaces. To extend the capacity an external pre-filter can be fixed directly to the ZS 6V.
One of Weller's largest extraction units, the ZS 6V features a powerful 615m3/hr (362 CFM) flowrate. The system's large filter contains up to 13kg (29lbs) of granulated filtration media for an exceptionally long filter life.
more information: https://www.weller-tools.com/professional/EUR/en/Filtration/3D+printer+vapours/Zero+Smog+6V+fuer+Kleberdaempfe